Download Flyer and Registration form
Topics
The Bible and Time

The Genesis Flood and the Tower of Babel

Biblical Apologetics (answers to challenges)

Four Pillars of Evolution (and how to refute them)

Critical Thinking and Logic

Understanding Scientific Evidence
Held at: New West Community Church
Date: March 9, 2013 (Saturday)
Time: 8:30 AM– 5:30 PM
Cost: $47 per student (and $37 for each additional family member). (This cost also includes a student manual, lunch and snacks)
Audience: Teens and above
To register: Contact George Pearce (604) 535-0019
Mike Riddle – President of CTI & Education Specialist. Mike is an international speaker and educator on Christian education and apologetics. Mike is also an adjunct speaker for Answers in Genesis. He holds a degree in mathematics and a graduate degree in education and has been involved in creation ministry for more than thirty years. Prior to getting involved in creation ministry, Mike was a captain in the U.S. Marines and a national champion in track and field.
---
The Seattle Creation Conference (SCC) is a regular event organized by the Northwest Creation Network in the Puget Sound region of Washington state USA. The conference features creation scientists and authors who are dedicated to glorifying God through the scientific study of His creation and through refuting the false claims of evolutionism.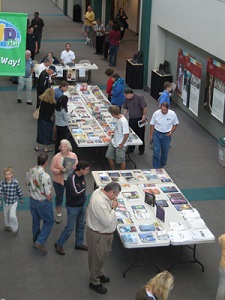 Speakers:
Jonathan Sarfati
Jerry Bergman
Spike Psarris
Chris Ashcraft
Location:
Woodin Valley Baptist Church
5400 228th Street S.E.
Bothell, WA 98021
See Conference Website for details.
Schedule the next creation conference at your Seattle area Church, or request a speaker anywhere.
Contact the NWCN