The Discovery of the Dead Sea Scrolls:

Qumran and the Bible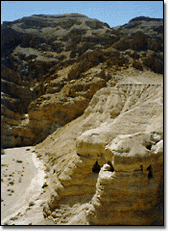 Multimedia Presentation by
Dr. Tim Campbell

November 7th, 2018
6:30 - 8:00pm

Cedar Park Church
Chapel of the Resurrection
16300 112th Ave NE
Bothell, WA 98011
Directions

Watch Live Webcast

Description:
An exploration of how the discovery of the Dead Sea Scrolls and the archaeology of Qumran shed light on the Bible and add to the credibility and authenticity of the transmission of the Biblical text. Using current scientific methods (DNA testing) and scholarly examination (paleography-handwriting) the scrolls come alive and provide a valuable resource in our study of scripture as God's Word.

Download Handout
About the Speaker:
Dr. Campbell is an ordained pastor and has a doctorate and master's degree in Ministry and Bible. He currently teaches at Cedar Park Christian School in Mountlake Terrace and pastors a Church in Marysville, Washington. Dr. Campbell has had the opportunity to view the Dead Sea Scrolls in Jerusalem and during traveling exhibits in Chicago, Seattle and Los Angeles. He and his wife, Carline, reside in Lake Stevens and have been married for 33 years and have three grown boys.
---

The Apologetics Symposium takes place the 1st Wednesday each month at Cedar Park Church in Bothell WA. The programs feature presentations from educators and scientists who are dedicated to defending the Bible. They are free to attend, and also available for viewing through live webcast or the recordings archived on our website.

See upcoming schedule of topics and speakers.