Northwest Creation Network
The Northwest Creation Network is a Christian ministry specialized in educational outreach in creation science apologetics. Our mission is to strengthen faith against the false teachings of naturalism, and encourage the Church to trust in the Bible as authoritative on early Earth history.

Educational Programs
Apologetics Symposium
- monthly educational program at
Cedar Park Church
, Bothell WA. Free to attend and available through
live streaming video
.


Join us
May 15th at 7pm
for a seminar by Phil Fernandes
Titled "
The Biblical Basis for Apologetics
"
Read description and upcoming schedule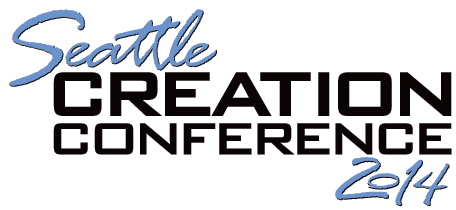 Seattle Creation Conference
- for the past 10 years we have organized this 2-day event, which takes place Friday evening and all day Saturday.
Watch seminars from 2013
online
Join us May 30-31, 2014.
Download brochure.




Free Educational Resources
Our website serves as a repository of materials to assist in the study of creation apologetics. These resources have been organized by subject, and include a large collection of videos, audios, PowerPoint files, and the CreationWiki: Encyclopedia of Creation Science.


The Creation Wiki is an international collaboration website that was founded by the Northwest Creation Network in 2004. It is unique among similar wiki sites in that only creationists are permitted to serve as editors.


Creation Science Store
Our Creation Science Store offers a wide variety of materials to help the Church defend their faith against the false teachings of naturalism. These materials can be purchase online or at our educational events.
We are a not-for-profit outreach mission. All proceeds from sales are used to fund our creation educational activities, including the server fees for the CreationWiki encyclopedia, and our conference or other programs in the Northwest USA.