Creation PowerPoint Presentations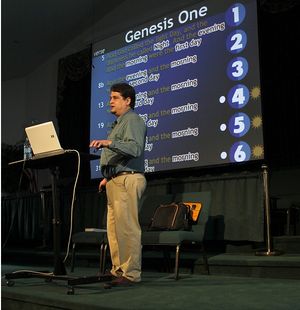 The following files are creation science and Biblical apologetics seminars created in Microsoft PowerPoint that can be downloaded and used freely for teaching purposes. A compressed ZIP file is also available for many, which includes the embedded videos and other ancillary files.
| Creation Science PowerPoint Backgrounds |
---
Biblical Creation Presentations
Chris Ashcraft...(Read Descriptions)
Mike Riddle....(Download all Riddle PowerPoint files - 1.3 GB zip file) Updated June 2014 and inludes many more than those listed below.
Thomas Kindell (Download all Kindell PowerPoint files 491MB ZIP file)
John Morris (Download all Morris PowerPoint files 321MB ZIP file)
Heinz Lycklama (Download All Lycklama PowerPoint files - (20.2MB ZIP file). )
---
Presentation Resources - Other Sites
Answers in Genesis - Tools for Teaching Awesome set of PowerPoints, graphics, and video helps by Answers in Genesis (EXCELLENT RESOURCE)