Creation Science Events in the NW USA
NWCN Educational Events
Apologetics Symposium - Thursday evenings at Cedar Park Church, Bothell WA. These educational programs feature different speakers each month and are available through live webcast for those unable to attend in person.
Annual Creation Conference - We organize the annual Seattle Creation Conference. This is a 2-day event that takes place Friday evening and all day Saturday each year at various Churches around the Puget Sound. It is a free event that features multiple speaker from creation ministries around the world.
Classes and Seminars - We also offer seminars and classes at Christian schools, Churches, Christian teacher's conventions, and meetings of regional creationist groups.Contact the NWCN to request a speaker or host the next creation conference.

---
Upcoming Regional Educational Events


---
---

Summer Creation Science Field Trips
July and August
Sponsored by Creation Association of Puget Sound
Families are invited to the two free field trips that will illustrate that the face of the earth can be dramatically changed in a few minutes or hours. It doesn't take millions of years! We will visit the two outstanding examples of these events in our own back yard.


Mt. St. Helens ---Saturday August 16
Mt. St. Helens is the site of the largest landslide in recorded history. Lloyd Anderson and Ron Payne will lead a tour that includes the 7 Wonders Museum, Weyerhaeuser Forest Learning Center, the Hummocks (an easy 2 ¼ mile hike), and Johnston Ridge. Lloyd will start off with a presentation that again defies the millions of years paradigm.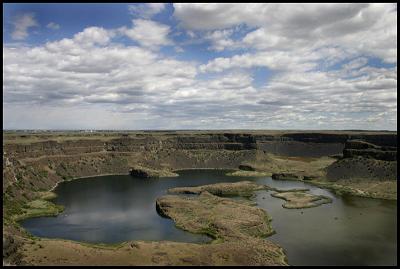 Dry Falls/Scablands --- Saturday Aug 9
For many years geologists thought that the channeled scablands and dry falls of Eastern Washington were carved out by gradual processes over many thousands of years. But one man stuck to his contention that they were created over just two days. Eventually he was able to prove that they were caused by a massive flood.

Geologist Patrick Nurre of The Geology Learning Center will lead the first trip and show how the devastating Lake Missoula Flood quickly altered the landscape. Ron Payne will lead the second trip. Participants will caravan in their own cars. The trip is limited to 15 vehicles, so carpooling is encouraged.

There is no cost for these trips, although there is an admission fee for the visitor center at Johnston Ridge ($8), and donations will be accepted to help defray costs.

To sign up send an e-mail to Ron Payne at rondpayne@comcast.net or call Ron at 425-820-2897.


---
---


Programming of Life
August 21st at 7PM
Dr. Don Johnson

Cedar Park Church
16300 112th Ave NE
Bothell, WA 98011
Directions

Watch Live Webcast
Thursday 7pm PDT, 8 MDT, 9 CDT, 10 EDT,
and 2am GMT Friday

Download Poster/Flier (PDF or DOC)
Description:
Programming of Life highlights the informational aspects of life that are usually overlooked or ignored in chemical and biological evolutionary scenarios. Each cell of an organism has thousands (or millions) of interacting computers reading and processing digital information using algorithmic digital programs and digital codes to communicate information. Life is an intersection of physical science and information science. Both domains are critical for any life to exist, and each must be investigated using that domain's principles. Yet most scientists have been attempting to use physical science to explain life's information domain, a practice which has no scientific justification.

This presentation reviews the cell's computers & computer programs, including computer, coding systems, & algorithmic requirements. The information questions unanswered as yet by science are highlighted. The required properties of nature's constants & natural laws are examined, with life's required component's properties probabilities highlighted, along with scientific problems with the observed fine-tuning of nature's constants and properties needed in order for life to have the observed biological information structures. This presentation is based on Dr. Don Johnson's two most recent books.
About the Speaker:
Don Johnson earned Ph.D.s in both Computer & Information Sciences and in Chemistry. He was a senior research scientist and consultant for over 14 years, and taught 20 years in universities in the US and Europe. Since retiring as an APU (Christian university) professor, he has done consulting, speaking, and writing (4 books, including best-selling "Programming of Life," and several peer-reviewed papers). He has made Christian and secular presentations across the US and on most continents. His Christian Website has links to the "Programming of Life" video (over 236,000 on-line views), several video presentations and printable flyers, as well as links to his two secular science Websites. For over 20 years he believed, taught, and defended the evolutionary scenarios, until science convinced him of the bankruptcy of those beliefs.
---
---


Biblical Worldview As It Relates to Science

September 18th at 7PM
Robert Carter

Cedar Park Church
16300 112th Ave NE
Bothell, WA 98011
Directions

Watch Live Webcast
Thusday 7pm PDT, 8 MDT, 9 CDT, 10 EDT,
and 2am GMT Friday

Download Poster/Flier (PDF or DOC)
Description:
Today, bible-believers are a great minority among practicing scientists and are subject to much persecution. Yet, modern science was developed on principles directly derived from Christian theology. Despite that history, science today operates without even token admission of its roots. How does this affect current scientific practices? Can we trust the conclusions of all those men and women in white lab coats? Can science operate in a moral and ontological vacuum?

We will examine three examples of how the turn from belief in God has affected modern thought: geomorphology (the shape of the earth's surface), fossilization (the process of preserving the remains of living organisms), and genetics (specifically as it relates to the genetic history of mankind). In each of these subject areas, we will examine the evolutionary scenarios put forth to date and weight them against solid biblical exposition. In the end, we will see that the evolutionary conclusions for each of these subjects are derived more from starting assumptions than it is from reality. Science belongs under the umbrella of Christianity.
About the Speaker:
Dr Carter was converted to Christ at an early age, but did not know what to do with the theory of evolution. He always knew what he wanted to believe, but had no way to express what he was thinking and no evidence to support his views. In his freshman year of college, he was exposed to the information for creation for the first time and soon after adopted it as his modus operandi. He says he felt a tremendous joy when he realized his science and his religion were no longer at odds. This joy (and, he says, Creation magazine and the Journal of Creation) enabled him to get through the in-depth evolutionary training of his undergraduate and graduate programs with his faith intact.

He obtained a BS in Applied Biology from the Georgia Institute of Technology in 1992. He then spent four years teaching high school biology, chemistry, physics and electronics before going to the University of Miami to obtain his PhD in Marine Biology. He successfully completed this program in 2003 with a dissertation on "Cnidarian Fluorescent Proteins." While in Miami, he studied the genetics of pigmentation in corals and other invertebrates, designed and built an aquaculture facility for Caribbean corals, performed well over 500 SCUBA dives, many of them at night, and licensed a spin-off product of his research (a patented fluorescent protein) to a biotech company. See longer version of bio.

He is currently a senior scientist and speaker for CMI-USA in Atlanta, Georgia, where he lives with his wife, Leanne, and children and is currently researching human genetics and other issues related to biblical creation.
---
---


Dinosaurs: Monsters of the Ancient World

Watch Live Webcast
7pm PDT, 8 MDT, 9 CDT, 10 EDT, and Friday at 2am GMT
Description:
Evolutionary theory holds that dinosaurs dominated the earth during the Age of Reptiles, some 230 to 65 million years ago, before mammals evolved. Then they were all killed off by some catastrophic event, generally supposed to have been an asteroid strike. But mounting evidence indicates that although there was a cataclysmic event in the past, some dinosaurs survived. Hundreds of clues from many different cultures around the world lend support to the contention that they were around much more recently than 65 million years ago. If this is true, serious questions are raised about dinosaur evolution and the evolutionary timescale.

This talk will introduce the subject of dinosaurs, and present evidence from paleontology, archaeology, legends, old chronicles, and the Bible that stories of ancient monsters were more than just myths. This evidence will undergird the case for recent creation and the accuracy of the Bible.
About the Speaker:
Bruce Barton has degrees in meteorology and theology, with studies in engineering and graduate work in atmospheric sciences. Mr. Barton was an instrumentation engineer in Research and Development for Weyerhaeuser Company until retirement.

He has a broad background as a teacher and speaker to groups of all ages in a wide range of subjects including science and technology, aviation, and Bible topics, particularly apologetics. He has been speaking and teaching on the creation–evolution controversy for ten years. He also serves on the boards of directors for the 7 Wonders Museum at Mt. St. Helens and the Creation Association of Puget Sound.
---

September 25th-26th 2015

Cedar Park Church
16300 112th Ave NE
Bothell, WA 98011
Get Directions

Watch Live Webcast
Speakers
---
---
Other Regional Event Announcements
Events Outside the NW Region