New Testament Archaeology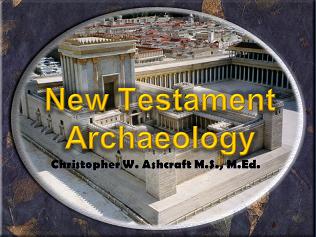 Multimedia presentation by
Chris W. Ashcraft
M.S., M.Ed., MTMS.
Wednesday May 13th, 2020
6:30 - 8:00pm

Cedar Park Church
Webcast Only
Watch Live Webcast
6:30pm Pacific
Description:
The New Testament of the Bible records the history of the new Church, beginning shortly before the birth of Jesus. However, this important record is under attack by Archaeologists who have claimed that the Biblical account of history is inaccurate or even fictitious. Key events in Christianity, such as the crucifixion, have been challenged on archaeological grounds because no records of the Roman governor Pontius Pilate had been found.
This presentation will review several well known Biblical events and figures that can now be substantiated by recent archaeological investigations, including the very resurrection of the Christ.
Files:
About the Speaker:
Chris Ashcraft is a Christian educator employed as high school science teacher at Cedar Park Christian Schools and Adjunct Professor at NW University. Formerly, Chris was a biology research technician specialized in plant tissue culture and genetic transformation technology. He was employed at the Cotton Fiber Production Laboratory at Texas Tech University and the Plant Transformation Facility at Oklahoma State University, and lastly was the Plant Transformation Specialist for EDEN Bioscience in Bothell Washington.

He obtained a Bachelor of Science in biology from Wayland Baptist University in 1989, a Master of Science in biology from Texas Tech University in 1996, a Master of Education from the University of Washington in 2008, and a Master is Teaching Math and Science from Seattle Pacific University in 2012.

Chris moved from research science into the teaching profession to serve God in Christian education. His decision was motivated by the impact that secular science is having on people of faith. Today, close to 50% of Christian students lose their belief in God while attending secular schools. This tendency could be lessened if the Church was better equipped to defend the authority of Biblical teachings (1 Peter 3:15). To be prepared for these challenges, it is important that Churches provide regular educational programs on creation and other Bible apologetics.
---

The Apologetics Symposium is an educational program addressing the conflicts that exist between naturalism and the Biblical worldview. As part of a weekly Wednesday evening series, this program features a different speaker each month. Join us at Cedar Park Church or through our live webcast.


View the recordings archived on our website.