Is There Monkey in Your Family Tree?
by Thomas Kindell
Seattle Creation Conference, August 2007
Description:
Dr. Kindell examines and powerfully refutes the so-called "evidence" that man evolved from an ape-like ancestor.
This video file is a 60 minute seminar by Thomas Kindell that was recorded during the Seattle Creation Conference August 2007.
About the Speaker:
Thomas Kindell is the founder and president of Reasons for Faith Ministries, dedicated to equipping Christian believers with evidence for their Biblical faith. For over 25 years he has lectured on the subjects of scientific creation and Biblical apologetics. He holds a Ph.D. in Theology from International Seminary and received training in scientific creationism at the Institute for Creation Research.
Files:
Download Windows Media Video file:
Download RealPlayer Video file:
Download Audio
PowerPoint file
---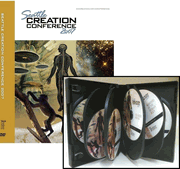 This seminar was recorded during the
Seattle Creation Conference
, August 2007 at
Calvary Chapel of Lake Stevens
, WA.
It may be viewed free online or downloaded to your computer as either a video or audio. A DVD can be purchased at our webstore as an individual title or the entire conference may be obtained as a compilation of 10 disks.
The Seattle Creation Conference is a regular event organized by the Northwest Creation Network. For information about the upcoming conference visit the Seattle Creation Conference website, or contact the NWCN to have us organize the next creation conference at your Church.