Light Speed and Other Puzzling Data

That May Support a Recent Creation
by Barry Setterfield
Seattle Creation Conference, July 2006.
Description:
Five physical quantities, including the speed of light, show synchronous trends that seem to have a single cause. This cause, and its behavior with time, originates in an event which is reiterated 12 times in Scripture, and may indicate a young universe. This will be explored in detail in the Workshop Sessions.
About the Speaker:
Barry Setterfield was born in Australia and educated at the University of Adelaide. Mr. Setterfield is an active researcher who has been investigating the speed of light since 1979. His first major paper was published by Flinders University in 1987, co-authored by Trevor Norman, and written at the request of a senior physicist at Stanford Research Institute International.
Research has continued in the fields of physics, geology, and astronomy, with papers published in the Journal of Theoretics. He and his wife are currently living in southern Oregon, where he is Director of the New Hope Observatory.
Files:
Download Windows Media Video file:
Download RealPlayer Video file:
Download Audio file
---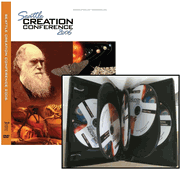 This seminar was recorded during the Seattle Creation Conference, Aug 10-12, 2006 at Overlake Christian Church, Redmond WA.
It may be viewed free online or downloaded to your computer as either a video or audio. A DVD can be purchased at our webstore as an individual titles or the entire conference may be obtained as a compilation of 7 disks.
The Seattle Creation Conference is a regular event organized by the Northwest Creation Network. For information about the upcoming conference visit the Seattle Creation Conference website, or contact the NWCN to have us organize the next creation conference at your Church.