Planet of the Apes?
by Chris W. Ashcraft, MS., M.Ed.
Seattle Creation Conference, October 2011.
Description:
Secular paleoanthropologists assert adamantly that humans are the descendants of ape-like ancestors. Darwin's seminal theory led naturalists inexorably to this conclusion, but the Bible clearly states that we were created distinct from the animals and in the image of God (Genesis 1:26-27 ). This presentation examines the evidence used to support human evolution, including Neanderthals and Australopithecines. Are these ancient hominids really missing links capable of substantiating human evolution or has the truth been distorted to support the materialistic evolutionary worldview?
This video file is a 50 minute seminar by Chris Ashcraft that was recorded during the Seattle Creation Conference October 2011 at Wooden Valley Baptist Church.
About the Speaker:
Christopher Wayne Ashcraft, M.S., M.Ed. is a creation scientist, speaker, and educator. He obtained the Bachelor of Science in biology from Wayland Baptist University in 1989, a Master of Science in biology from Texas Tech University in 1996, and a Master of Education from the University of Washington in 2008, and is currently a fulltime graduate student at Seattle Pacific University.
Chris was a research technician for 12 years specialized in plant tissue culture and genetic transformation technology, and is now a high school science teacher at Cedar Park Christian Schools where he teaches Biology, Chemistry, Human Anatomy and Physiology, and Creation Apologetics.
He moved from research into teaching in response to serve God in creation science missions. He is firmly committed to researching and teaching creation apologetics and speaks periodically at churches, schools, and creation organizations in the Northwest United States. He is the founder of the Northwest Creation Network and the CreationWiki internet encyclopedia where he serves as senior administrator. He also organizes the Seattle Creation Conference
Files:
Download Windows Media Video file: right-click link below and choose "Save Target As"
Audio:
PowerPoint file:
---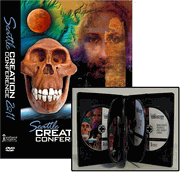 This seminar was recorded during the Seattle Creation Conference, October 2011 at Woodin Valley Baptist Church, Bothell WA.
It may be viewed free online or downloaded to your computer as either a video or audio. A DVD can be purchased at our webstore as an individual titles or the entire conference may be obtained as a compilation of 8 disks
The Seattle Creation Conference is a regular event organized by the Northwest Creation Network. For information about the upcoming conference visit the Seattle Creation Conference website, or contact the NWCN to have us organize the next creation conference at your Church.