Seattle Creation Conference 2009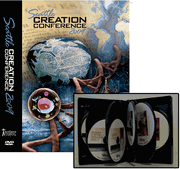 These seminars were recorded during the Seattle Creation Conference, October 2009 at Family Life Center, Mukilteo WA.
They may be viewed free online or downloaded to your computer as either a video or audio. DVDs can be purchased at our webstore as individual titles or the entire conference may be obtained as a compilation of 10 disks.
The Seattle Creation Conference is a regular event organized by the Northwest Creation Network. For information about the upcoming conference visit the Seattle Creation Conference website, or contact the NWCN to have us organize the next creation conference at your Church.
Amazing Animals: Design vs. Darwinism

Catastrophic Plate Tectonics: A Global Flood Model of Earth History

The Creation of the World: Understanding Genesis 1:1

Geology and the Global Flood

How Big is God

The Ica Burial Stones of Peru

by Stan Lutz

Radioisotopes and the Age of the Earth: The Earth's Young After All

The Search for Sodom and Gomorrah

Some Like it Hot: One View on Climate Change

Wonders of the Cell

Videos from our past conferences are available for viewing free online or purchase.
2004
2005
2006
2007
2009
2010
2011
2013