Wonders of the Cell
by Chris W. Ashcraft, MS., M.Ed., MTMS
Seattle Creation Conference, October 2009.
Description:
Cell Biology provides many extraordinary examples of intelligent design. Inside each and every organism reside biomechanical systems that Darwin and his contemporaries could never have imagined. Even today, much of what is happening inside cells is still not understood, and yet evolutionists hold fast to a belief that these remarkable constructs developed without God.
These two contrasting views of the cell provide poignant illustration of how worldviews impact our interpretation of physical evidence. In his presentation, Chris Ashcraft will discuss the cell as it relates to these opposing views and describe some important cellular features, which offer testimony to the glory of the Creator.
This video file is a 60 minute seminar by Chris Ashcraft that was recorded during the Seattle Creation Conference, October 2009. View more videos from the 2009 conference.
About the Speaker:
Christopher Wayne Ashcraft is a creation scientist, speaker, and educator. He obtained the Bachelor of Science in biology from Wayland Baptist University in 1989, a Master of Science in biology from Texas Tech University in 1996, and a Master of Education from the University of Washington in 2008.
Chris was a research technician for 12 years specialized in plant tissue culture and genetic transformation technology, and is now a high school science teacher at North Sound Christian School where he teaches Biology, Chemistry, and Creation Apologetics.
He moved from research into teaching in response to a call from God to work in creation science missions. He is firmly committed to researching and teaching creation apologetics and speaks periodically at churches, schools, and creation organizations in the Northwest United States. He is the founder of the Northwest Creation Network and the CreationWiki internet encyclopedia where he serves as senior administrator. He also organizes the Seattle Creation Conference
Files:
Download video file:
Free QuickTime MOV format
Download audio file:
PowerPoint file:
---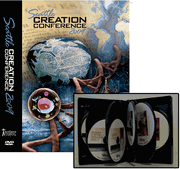 This seminar was recorded during the Seattle Creation Conference, October 2009 at Family Life Center, Mukilteo WA.
It may be viewed free online or downloaded to your computer as either a video or audio. A DVD can be purchased at our webstore as an individual title or the entire conference may be obtained as a compilation of 10 disks.
The Seattle Creation Conference is a regular event organized by the Northwest Creation Network. For information about the upcoming conference visit the Seattle Creation Conference website, or contact the NWCN to have us organize the next creation conference at your Church.